Have you ever wished you could fly like a bird, wield a magical sword, or explore an alien planet? Dreams of stories like these can often transport us into a far-off world, far removed from our own mundane reality. This is the power of fantasy, the ability to imagine an alternative reality that is rooted in our hopes and dreams. Whether it's a book, movie, or video game, fantasy has become a significant part of our lives in today's world.
But is there power in believing in fantasy? Or are dreams just idle musings with no place in the real world? The truth lies in the tension between reality and fantasy, and how humans can use fantasy to enliven their own experience of life. After all, dreams often indicate our deepest wishes and desires, hinting at our need to pursue something grander than ourselves.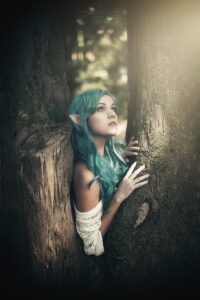 For instance, fantasy stories are filled with tales of heroic protagonists, representing our own yearning for greatness and power. Even when characters fail, they often persevere. Heroes provide us with a glimmer of hope that even the smallest individual can challenge powerful forces in times of crisis. This optimism can give us a much-needed push in our own lives when our own world seems overwhelming.
Fantasy also allows us to explore difficult emotions, ranging from profound love to deep sadness. As adults, we may feel too embarrassed or ashamed to express feelings like these. Yet in the fantasy world, it's perfectly acceptable to feel and express emotions without fear of judgement. In this way, fantasy can provide us with an escape route, a way to experience the full range of our inner lives in a safe, non-threatening space.
Furthermore, fantasy worlds are often populated by plenty of different creatures, cultures, and landscapes, revealing a wide diversity of ways of being. These different visions of the world can help us to question and challenge our beliefs and assumptions, widening our perspectives and opening us up to new possibilities. By engaging with these different points of view, we can discover new ways to look at our own world and the people in it.
Ultimately, believing in fantasy encourages us to dream and strive for something more. We can find comfort in our dreams, an escape from the mundanity of our lives, and inspiration to keep going when the going gets tough. We can also gain an understanding of other people's realities—different from our own—and discover how these can help us to broaden our minds and enrich our lives.
Though fantasy is just an escape from reality, and isn't always applicable to the real world, it can still serve as an important source of emotional comfort and inspiration. By giving our imagination room to roam, fantasy can help us to make sense of our feelings and develop an appreciation for different points of views. With the power of fantasy, we can all experience the wonders of our inner and outer worlds, and perhaps even something beyond.